In this chapter, you will learn how to work with static files and serve them to the client correctly.
The application described in this chapter is not intended for use in production environments as-is. Note that successful completion of this entire guide is required to create a production-ready application.
Preparing the environment
If you haven't prepared your environment during previous steps, please, do it using the instructions provided in the "Preparing the environment" chapter.
If your environment has stopped working or instructions in this chapter don't work, please, refer to these hints:
Preparing the repository
Adding an /image page to the application
Let's add a new /image endpoint to our application. It will return a page with a set of static files. We will use webpack to bundle all JS, CSS, and media files.
We will use the dist directory for building static files as well as for storing the index page and the image page:
The application now has a new endpoint called /image in addition to the /ping endpoint we made in previous chapters. This new endpoint displays a page that uses different types of static files.
The commands provided at the beginning of the chapter allow you to view a complete, exhaustive list of the changes made to the application in the current chapter.
Serving static files
A Node.js application can serve static files, e.g., in the express framework, you can make a controller using express.static. However, the authors of express recommend using a server like NGINX to serve static files. This is because the reverse proxy distributes static files much more efficiently than Node.js.
In practice, you can do without the reverse proxy running in front of an application only during development. In addition to efficiently serving static files, the reverse proxy nicely complements the application server by providing many additional features non-implemented at the application server level as well as fast and flexible request routing.
There are several ways to deploy the application server behind the reverse proxy in Kubernetes. We will use a popular and straightforward method that also scales well. As part of it, the NGINX container is deployed to each Pod with the Node.js container. This auxiliary container serves as a proxy for all requests except for static file requests. The NGINX container is responsible for the distribution of static files.
Now, let's get to the implementation.
Making changes to the build and deploy process
First of all, we have to make changes to the application build process.
Organizing files
We will use webpack to bundle static files. Currently, our application has one index page accessible at /. This page has existed since the start of the project. Its contents are in the /public/index.html file. We will now add another page available at /image. We will also re-structure the /public directory and divide it into two parts: the pages (pages) and the files needed for the pages (assets).
HTML files will act as page templates. We will not cache pages because they are always available at fixed paths (/, /image), and we need to change them occasionally and quickly bring those changes to users. However, asset files will be assembled so that their names will change depending on their contents. This way, you can cache files in a browser for a long time and at the same time easily modify them. Once bundling is complete, you will see the following result in the dist directory (we will show you how to achieve it below):
Building static files
Let's install the following modules to build and bundle static files:
webpack, webpack-cli — for building static resources;
webpack-dev-middleware — for serving the files emitted from webpack during development;
html-webpack-plugin — for generating HTML pages with dynamic assets attaching;
css-loader — for using CSS;
mini-css-extract-plugin — for extracting CSS into separate files and caching them independently of JS;
css-minimizer-webpack-plugin — for optimizing and minifying CSS (it works together with the mode: "production" parameter).
Let's add a build command to package.json: "build": "webpack" and a request handler for static files if the application is not running in production mode:
Let's make sure that the server runs as expected and static files are being built. For this, assemble static files, run the server, and open the image page in the browser at http://localhost:3000/image:
Deploying static files and the application
Now that we have static files for the NGINX proxy and pages for the application server, we need to distribute static files between containers. The HTML files should end up in the app container, all other files — in the NGINX container.
The NGINX config will be added to the NGINX image during the build:
Now, let's update werf.yaml so that werf can build two images (backend, frontend) instead of one:
Add a new NGINX container to the application Deployment:
Service and Ingress should now connect to NGINX's port 80 instead of 3000. This way, NGINX can serve static files and act as a proxy for application requests:
Checking that everything works as expected
Now we have to re-deploy our application:
You should see the following output:
Go to http://werf-guide-app.test/image in your browser and click on the Get image button. You should see the following output: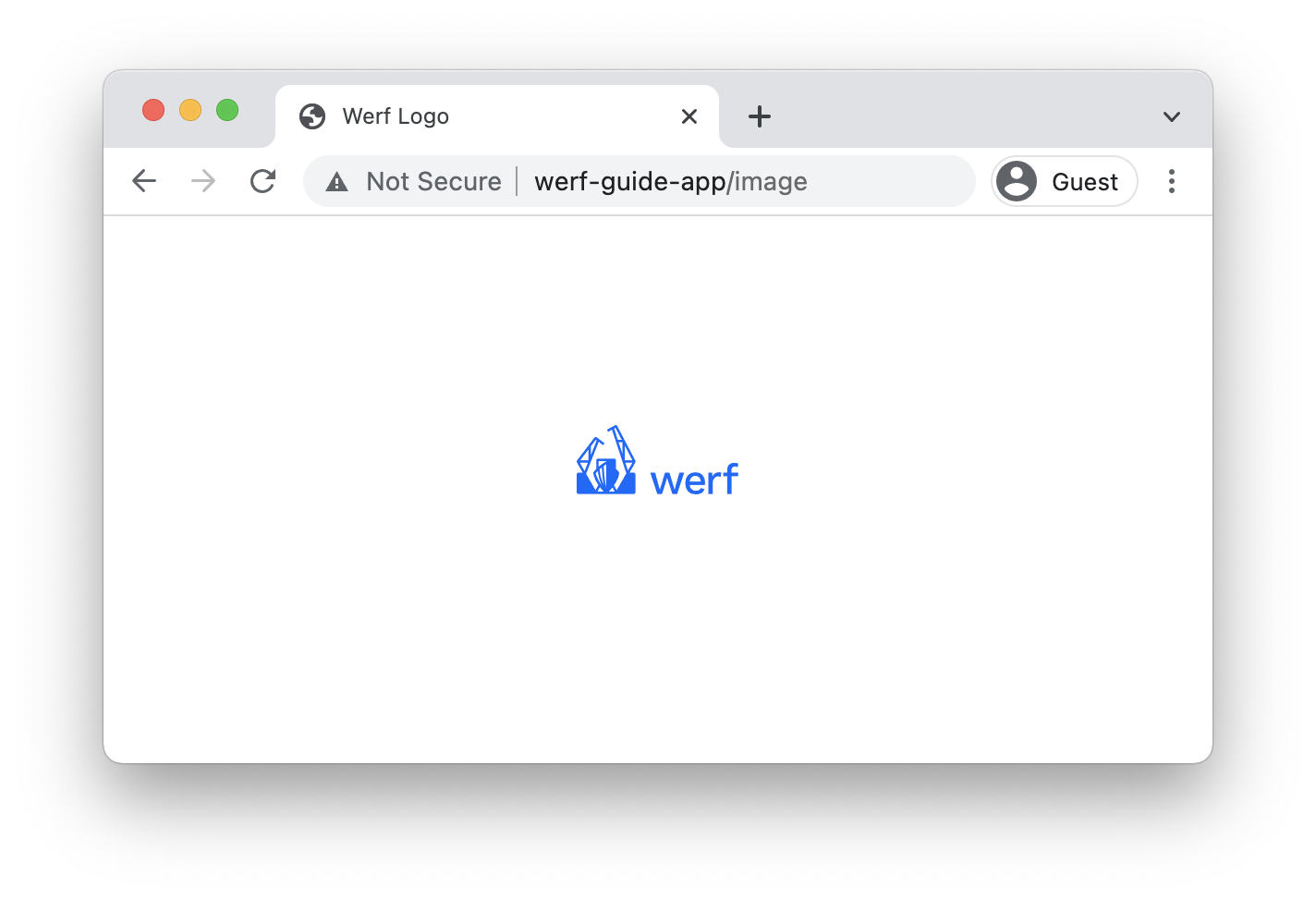 Note which resources were requested and which links were used (the last resource here was retrieved via the Ajax request):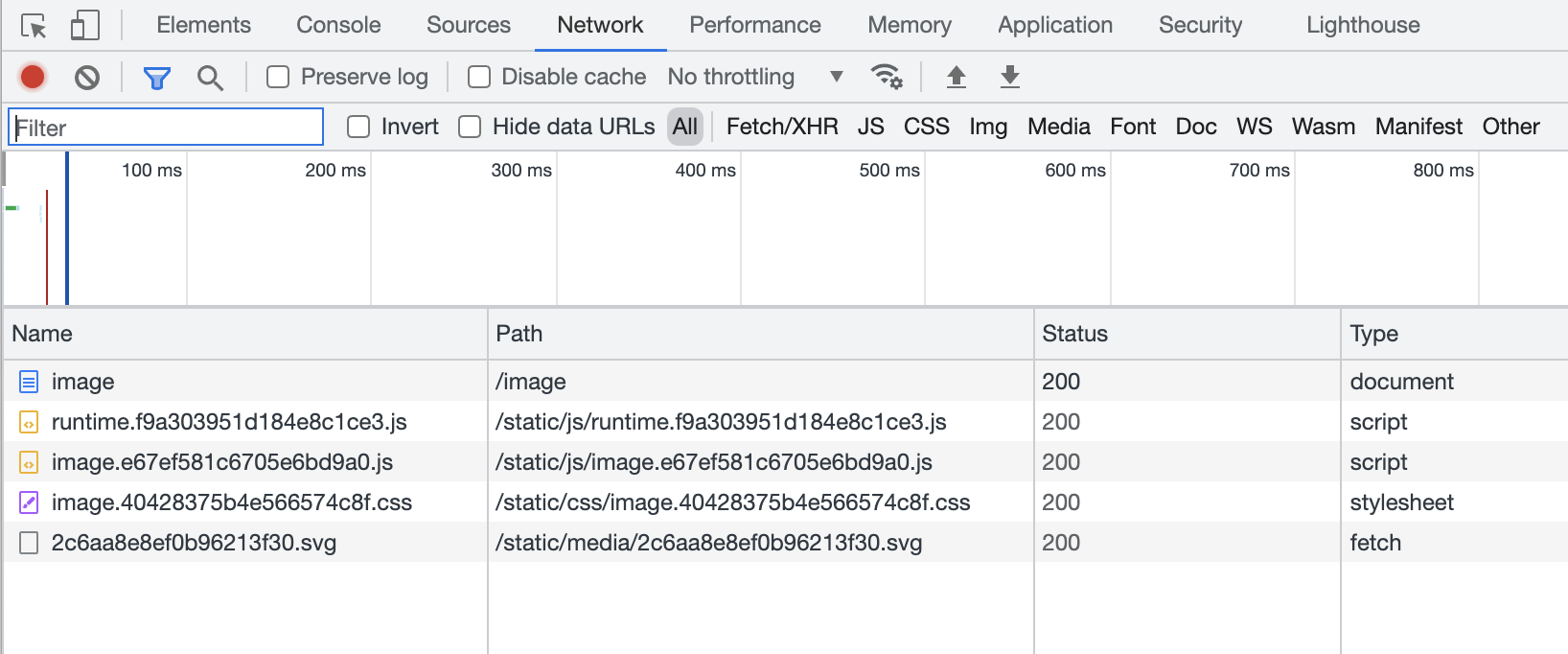 Now our application not only provides an API but boasts a set of tools to manage static and JavaScript files effectively.
Furthermore, our application can handle a high load since many requests for static files will not affect the operation of the application as a whole. Note that you can quickly scale Node.js (serves dynamic content) and NGINX (serves static content) by increasing the number of replicas in the application's Deployment.